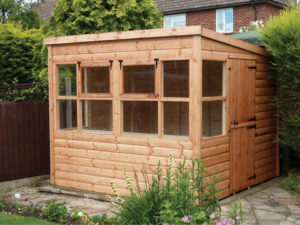 Potting Shed
Do you like pottering about in the garden or growing your own plants? Then the Potting shed could be the building for you. With glazing on 3 sides to capture the extra hours of sunlight, with a shelf fitted below the windows for your seed trays & a ledge & brace stable door complete with lock & key that can go in either end, what more could you need? Constructed from tongue & groove shiplap on the four walls & tongued & grooved matching on the roofs and most floors (Heavy duty V313 Caberboard floors come as standard on any buildings 8'x8' or larger). The building comes with pressure treated bearers on the floor, toughened glass fitted as standard& is externally treated with a spirit based preservative.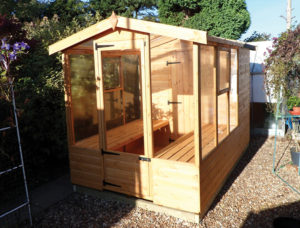 Grendon
The Grendon is our 10' x 6' Greenhouse / shed combination is the answer to the keen gardeners needs. You have a superb 6' x 6'6" Greenhouse with a glass roof and a super 6' x 3'6" storage area for your tools, seed trays & pots etc. There is timber staging on both sides of the Greenhouse section. By combining the two buildings you have a visually pleasing garden building that is very
practical as well. & is externally treated with a spirit based preservative.
Download our latest Brochure to see full specifications and our complete range.