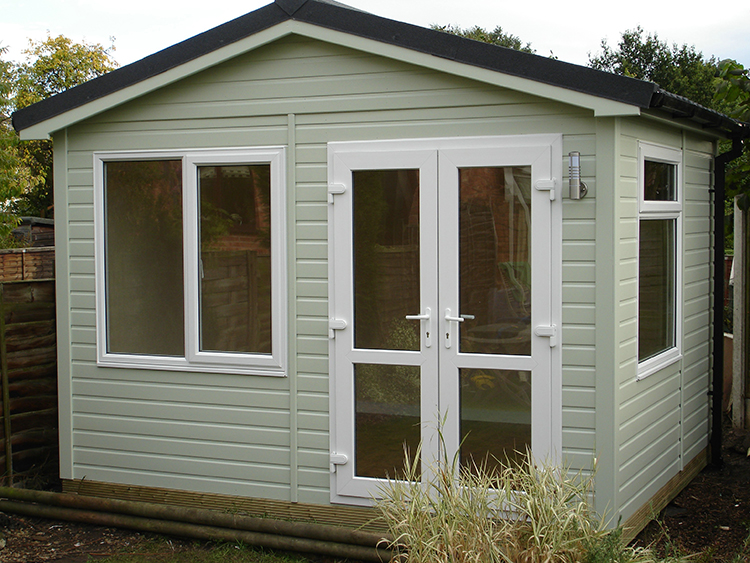 Buildings are made to measure to your requirements but all buildings require a firm level base.
Specifications and Standard Features of the Westleigh (included in price):
Toughened double glazing
White UVPC doors & windows (Timber Doors and Windows also available)
Double Doors with 5 point locking system
1200mm x 1000mm UPVC windows
Fully insulated floors, walls & ceilings
15mm tongue & grooved softwood cladding (finished size)
18mm moisture resistant floor
Ex 75mm x 50mm softwood framing
Square PVC gutters and down pipes in white, black or brown.
Ex 150mm x 50mm pressure treated floor joists
9mm MDF suspended ceiling
Eaves height at the lowest point 7ft 4in
External Stain Treatment
Lined & Insulated Walls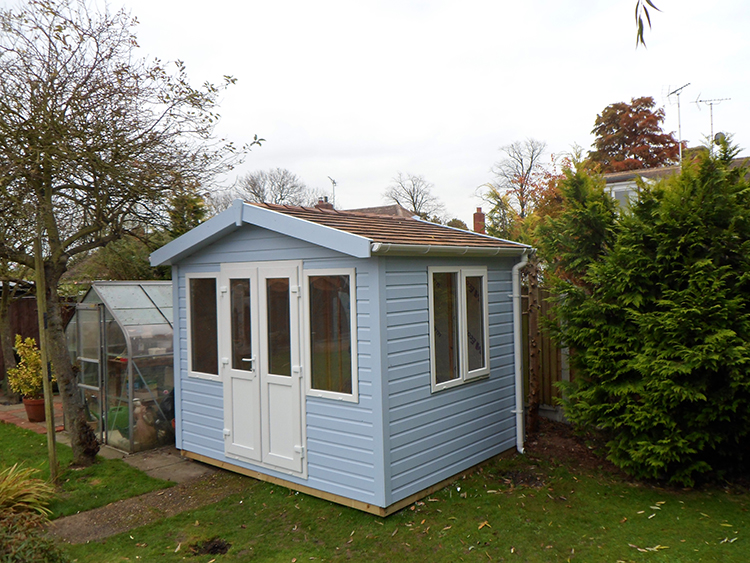 The garden offices include fully lined and insulated walls with 70mm x 45 mm softwood framework & a vapour barrier. 40mm foil backed celetex insulation board is fitted between the framework and fully lined with 9mm white primed flat MDF board.
Insulated Floor
The Westleigh include a fully insulated floor with 140mm x 45mm pressure treated floor joists. The floor is a 18mm
moisture resistant particle board with 40mm polystyrene insulation fitted between the joists.
Lined & Insulated Roof
Also provided is a fully lined and insulated roof with a 40mm foil backed celetex insulation board. The roof is lined
with a 9mm primed flat MDF board.
External Wood Stains
The Garden room is treated as standard with a good quality micro porous wood stain in a translucent antique pine
colour. Micro Porous wood stains are impervious to water but not to water vapor which allows for the wood to
breath.
High Specification doors & windows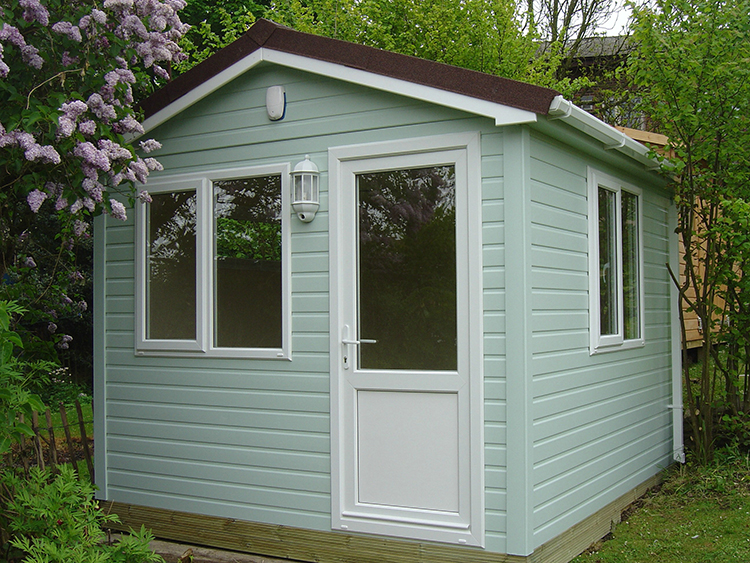 The doors in the home office are similar to those used in modern house buildings with high performance UVPC
frames & sashes. Features include multi chamber frame profiles & sealed unit toughened double glazing. All sashes
are fitted with draught excluders & a high standard ironmongery.
Optional Extras Available for your Westleigh Home Office:
Electrical first fix with cables positioned behind the internal lining (excludes Fittings)
The Westleigh
Toughened double glazing
White UVPC doors & windows (Timber Doors and Windows also available)
Double Doors with 5 point locking system
1200mm x 1000mm UPVC windows
Fully insulated floors, walls & ceilings
15mm tongue & grooved softwood cladding (finished size)
18mm moisture resistant floor
Ex 75mm x 50mm softwood framing
Square PVC gutters and down pipes in white, black or brown.
Ex 150mm x 50mm pressure treated floor joists
9mm MDF suspended ceiling
Eaves height at the lowest point 7ft 4in
External Stain Treatment
Choice of fully glazed or half glazed doors
Additional side windows
Coloured external paint finish
Vaulted window with 9mm MDF bead & butt board
Laminate Floor
Office Can Be Made into smaller sections if there is restricted access
Single doors
Please click on photos to view more examples of the Westleigh Home Offices